Frugal Minimalism - Handmade Developmental Infant Toys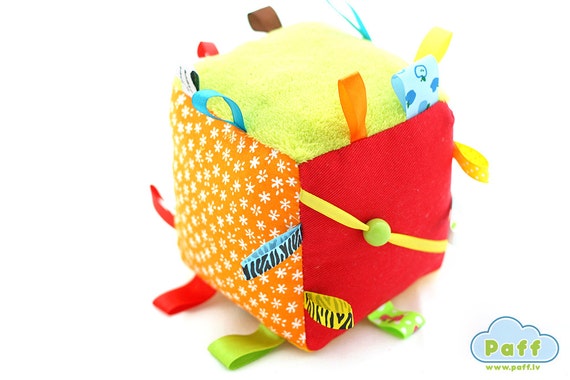 Pregnant with my first child, I was presented with my first Taggies blanket. I thought, "What a cool idea!" I was curious to know more about the product so I went online to find out this 12 x 12 blanket lined with t-shirt tags cost $25! Whoa, that was a lot of money for not a lot of fabric. So I went to my favorite handmade marketplace, Etsy, and discovered the creations of PAFF Toys. A fantastic value, artisan Dace Lāce promotes child development through unique products. Her line includes natural wooden teethers, blankets, and activity toys. Dace's activity ball (pictured above) boasts the following features with a $16 price tag:
* Promotes physical development - can throw like the ball, roll and crawl after it.
* Each side is different, it develops a perception.
* For very young babies cube can be hung on the bed or stroller.
* Various textures and tactile fabrics component develops tactile and finger skills
* Bright colors develop vision
* Crisp details for hearing development
* Lightweight and soft
* Rattle inside
* Size: 13x13cm (~ 5x5 inch)
The brand name, Taggies, offers similar products in excess of $50! Frugal minimalists everywhere are salivating at the thought of handcrafted items that undercut the premium brand by almost 70%! Etsy.com has certainly found a fantastic method of connecting local artisans like Dace with global customers and constantly opening new buying channels.
Tracy Freese