Iowa Public Employee Retirement System IPERS - Part 3 - Waterloo Cedar Falls Courier Follow-up Article on Finley/IPERS Debate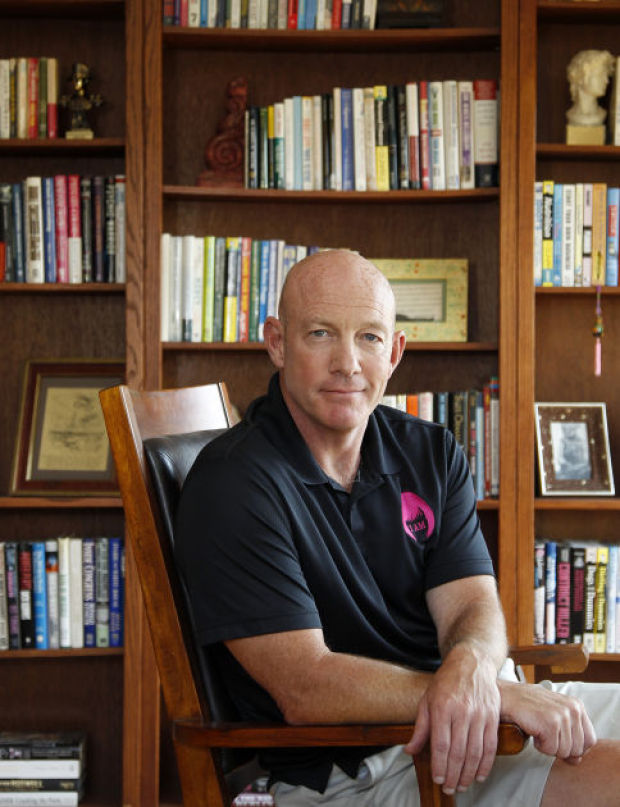 Mike Finley isn't a fan of how the pension fund for public employees in Iowa is investing its money.
As published in the WCF Courier July 14th 2014 by Christinia Crippes
CEDAR FALLS | Mike Finley may call himself "The Crazy Man in the Pink Wig," but he's on a serious mission to provide financial literacy -- to college students, soon-to-be retirees and the IPERS board.
The retired U.S. Army military policeman has dedicated half his life to becoming financially literate, and he has spent the past few years passing along that knowledge. He's even written a book on the topic in "Financial Happine$$."
The courses -- and fervent emails to the Iowa Public Employees' Retirement System board and lawmakers with oversight of the system -- have individually tailored information, but the message is so often the same: "Stop putting these financial people on pedestals like they're gods. They're not."
Though Finley, 50, passes on financial advice, he is anything but a financial adviser.
He encourages students to take their investments into their own hands, and he'll offer retirement counseling for a small fee of breakfast. Finley freely admits to students that he doesn't have all the answers, and he regularly cites his sources so people can verify information themselves.
The squeaky wheel
Finley's efforts close to home have proven successful, but he's still struggling to get traction with his more recent effort to change IPERS' investment strategy to one that relies less on paying financial advisers.
Finley recently completed his first retirement seminar, which filled the community room at Bridges Senior Living center once a week for a month. He educated, and entertained, about 70 people each week while he covered everything from long-term care insurance to Social Security benefits to how to retire happily.
IPERS chief investment officer Karl Koch, meanwhile, has released two statements taking aim at the claims made by Finley. But Finley isn't giving up, and in fact, he's determined to be the squeaky wheel.
IPERS, the state's public retirement system, had 342,652 members at the end of fiscal year 2013. Nearly 105,000 of those members are currently retired, and they receive an average monthly benefit of $1,335, according to the IPERS website.
Finley does not have any investment through IPERS, since he's retired from the military. But the way he sees it, the investment strategy is costing Iowa taxpayers, including himself, extra money.
"Most active management (investment strategies) has failed, not only with IPERS, but also throughout the country. This is not news," Finley said. "Taking more risk in private markets is not much different than walking into a casino and predicting which slot machine is going to pay off."
IPERS, with the consent of its board, currently has an investment strategy that has two-thirds of its funds in actively managed accounts, which means that financial advisers use research and their own judgment to manage which individual securities to invest in. An independent study from 2013, by CEM Benchmarking Inc., shows IPERS with 76 percent in external active management, compared to 68 percent for its peers.
It has 21 percent of its funds in passive management, which Finley prefers. Passive management, as its name suggests, means less human intervention and more investment in stock market index funds, like the companies in Standard and Poor's 500.
Koch acknowledges in a statement on active versus passive management that "IPERS does not dispute the validity of using low-cost index funds to passively obtain exposure to certain public investment markets," though added that the recent underperformance of some active management strategies did not justify changing to 100 percent index funds.
But after prodding from Finley, Koch did a comparison of the past 10 years of what IPERS had done versus what would have happened if those dollars had been invested in only passive funds. What he concluded was that IPERS received an additional $2 billion over the past 10 years with its own strategy, even after deducting the costs associated with active management.
"Interestingly, IPERS' investment program, after deduction of all investment costs and removing the impact of cash flows from contributions and benefit payments, would have added about $1.9 billion in extra value versus the passive approach over that time period," Koch said in the most recent statement about Finley's critiques.
Finley estimates the money lost to financial advisers for their active management to be about $150 million per year. Koch said, however, it's closer to $115 million, but adds that IPERS' investment results are shown "after fees," meaning those costs have been deducted to calculate a net performance result.
The way Finley sees it, however, it's not an apples-to-apples comparison without showing the stock market makeup of the IPERS fund and using that split, rather than an arbitrary passive management split of 60 percent in stocks and 40 percent in bonds.
Though they may not agree, both Koch and Finley acknowledge that the battle between active management supporters and passive management supporters has been ongoing for decades. And it isn't likely to end any time soon, if Finley keeps up his work.
Koch said there hasn't been much concern, or inquiry, about the IPERS investment strategy, and that Finley is so far the lone person to launch a campaign against it.
Attracting allies
Because of Finley's financial literacy advocacy, however, he's managed to gain a few allies in his fight against IPERS' investment strategy.
Glenda Wilson, 51, of Cedar Falls, met Finley a few years ago and they instantly hit it off, as both were investing their money in The Vanguard Group, an investment management company that uses index funds and is essentially owned by the investors.
Wilson, who also attended Finley's retirement seminar, is more focused on individual investments through Vanguard -- "No one should care more about your money than you do," she said -- but she understands why Finley is on his IPERS mission.
She said he's opening the door for the IPERS board to take a look at the differences between active and passive management, and she believes its members will one day look back and wish they had adopted the passive strategy sooner.
"He's really doing important work, and he does it because he loves it," Wilson said. "Everybody has to decide when it's their own time."
Jean Mote, who owns Mote Wealth Management with her husband, Eric, has recently joined Finley's effort to challenge lawmakers and IPERS board members to reconsider their strategy. Mote's fee-only business also uses more index funds.
Though she adds caveats that she has never managed a portfolio the size of IPERS, Mote said she agrees that the retirement investment system relies too heavily on active management. Mote, a personal financial adviser, doesn't believe the board should adopt a fully passive strategy, but she would like to see it shift.
"It is concerning that such a huge pension fund is being farmed out to active managers, who have to be paid for their time, have to be paid for every trade. And the costs are substantially higher, and the even more concerning part is that while an active manager may beat the market for a few years, 80 percent of the time the index funds outperform," Mote said.
Legislative hurdles
While Finley continues to engage IPERS, and its board members, he's also tried convincing lawmakers to take up the cause. There, he's also run into mostly roadblocks.
After failing to gain traction with the Public Retirement Systems Committee, he's now working with legislators closer to home. Though neither have made any commitments to join Finley's cause, both are willing to listen to his concerns.
Rep. Art Stead, D-Cedar Rapids, said he'd recently heard from both Mote, whose business is based in Cedar Rapids, and Finley. Stead, a teacher himself, said he's currently at the stage of listening, learning and researching the issue himself.
Sen. Jeff Danielson, D-Cedar Falls, happens to have Finley as a constituent and serves as chair of the State Government Committee, which looks at policy issues related to public retirement systems, and as vice chair of the Administration and Regulations budget subcommittee that handles the funding aspects related to public retirement systems. He also served on an interim committee that looked at the systems.
Though Danielson said lawmakers are unlikely to jump into any major changes with IPERS, he said he plans to meet personally with his constituent and hear out his concerns. In fact, he said Finley's point about excessive fees is well taken, as it's important to ensure the system does get "added value" for its investments.
Danielson said Finley's concerns, and his own questions, will be brought up during the next legislative session when it meets with IPERS officials for its annual update. He also said it's healthy to offer constructive criticisms of the systems' methods.
"If it's a constructive critique, offered in a thoughtful way, it has a chance to have an audience," Danielson said. "Anytime you have a proposal about IPERS, it is politically sensitive, and I think rightfully so, because so many people's lives are wrapped up into it."
Tracy Freese